NEXTSTEP – NEXT distribution SubsTation improvEd Platform
POCI-01-0247-FEDER-018006
Neste projeto, pretende-se desenvolver um protótipo que inclua soluções tecnológicas aplicáveis à próxima geração de Postos de Transformação (PT). As atividades e tarefas propostas no âmbito deste projeto compreendem, a especificação, o desenvolvimento, a construção, os testes e a integração das soluções concebidas nas diversas vertentes tecnológicas de um PT.
1. EFACEC Energia, Máquinas e Equipamentos Elétricos, S.A.; 2. Eneida Wireless and Sensors, S.A.; 3. INESC TEC - Instituto de Engenharia de Sistemas e Computadores, Tecnologia e Ciência; 4. Universidade de Coimbra; 5. ITeCons - Instituto de Investigação e Desenvolvimento Tecnológico para a Construção, Energia, Ambiente e Sustentabilidade
Financial support from the European Union
Os objetivos:
Desenvolver um invólucro modular com elevado desempenho térmico, acústico, físico e mecânico, incluindo: materiais sustentáveis; sensorização ambiental e regulação inteligente da ventilação natural; personalização urbana; cobertura e fachadas verdes, em prol desse desempenho e da captura de CO2;
Desenvolver soluções para resiliência de rede: sensorização sem fios de grandezas elétricas e ambientais (energy harvesting, plug and play, intermutáveis/operáveis);
Conceber um controlador do PT com: arquitetura modular e distribuída; monitorização e self-healing remoto da rede BT; monitorização da condição dos ativos; gestão de ativos DER e iluminação pública; mapeamento automático e agnóstico de smart meters;
Conceber um transformador MT/BT, segundo o Ecodesign, com melhor eficiência energética, menor potência sonora e um novo sensor de descargas parciais – DP;
Criar celas MT de menor volume e adaptadas aos novos sensor DP e detetor de defeitos;
Desenvolver um dispositivo de aplicação flexível – no PT e na rede BT – para: regulação de tensão; prestação de serviços de rede, e.g. mitigação da distorção harmónica, equilíbrio de fases, compensação de cavas e de fator de potência;
Desenvolver um sistema de armazenamento de energia, segundo o Ecodesign, para acrescentar dimensão à função do dispositivo anterior; aportar eficiência energética, com suporte de capacidade durante o self-healing.
Communication and Dissemination
Pedro J.G. Carreira, Jorge M.G.M Santos, Vasco G.M. Ferreira, Luis Azevedo, Nuno Costa, Fernando Gomes, Clara Gouveia, Eric Zanghi, Jorge Pereira, Nuno Simões, António Tadeu, António Coimbra, José Oliveira, Alexandre Aparício, "NEXTSTEP – Developing future smart secondary substations", CIRED 2021 Conference, Geneva, 21-24 June 2021.
Fernandes, L.; Catalão, R.; Pires, L.; Pinto. J.; Janeiro, C.; Cordeiro, M. – "Pioneer earth systems remote monitoring for secondary distribution substations". CIRED 2019, Madrid, Spain. June 2019.
Faria, J.; Lima, D.; Oliveira, L.; Oliveira, J.; Cardoso, F. – "Smart Distribution transformers: Non-invasive Sensing to Enable Business Transformation". CIRED 2019, Madrid, Spain. June 2019.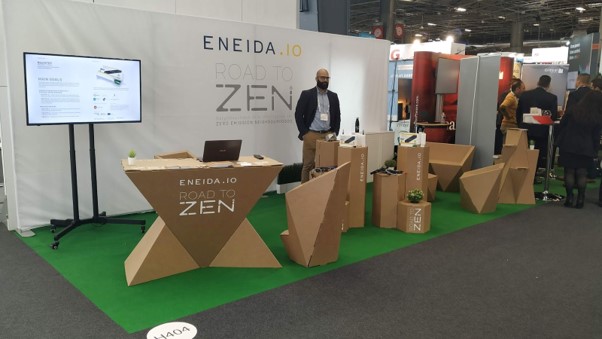 NextSTEP Results presented in Europen Utility Week 2019, in Paris.